A family-owned small business in Oshkosh, Wisconsin, Link Computing Solutions specializes in IT support for both commercial and residential customers.
What you need to know about Link Computing
People first. Computers second.
Welcome to Link Computing Solutions. We're a small business specializing in computers and IT support in the Fox Valley. Our team has a combined experience of more than 40 years and we'd like to help you with your computer, networking and IT needs.
Ray Reinders, Owner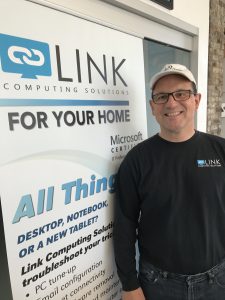 I'm Ray, owner of Link Computing Solutions in Oshkosh, Wisconsin. I've spent more than 20 years working as a computer consultant already. Daily interaction with both business and residential customers has prepared me well for the launch of this, my first small business venture.
Born and raised in Oshkosh, I hold two degrees from UW-Oshkosh: one in Computer Science and another in Management Information Systems. I'm a certified Microsoft Information Technology Professional (MCITP), Microsoft" Certified Solutions Associate, and a Microsoft" Certified Technology Specialist. Altogether, I've got more than 30 years of practical network experience in both small and medium-sized businesses where I learned to implement effective IT processes for invaluable results. My areas of expertise include:
Microsoft Server 2019/2016/2012R2/2012
WatchGuard & Araknis Firewalls
Microsoft Windows 10/8/7
Personal computer and laptop repairs
Remote monitoring and management
Wireless, firewall, and backup technologies
Cloud-based email, backup, data solutions, and design
Small to medium-sized business computer networks
I wasn't always all about computers. From 1986 to 1991, I served in the U.S. Navy as a Petty Officer on board the USS Sacramento. While there, I secured a Top Secret Clearance, helped a supply department achieve the 'Blue E' for efficiency, and earned both the Navy Achievement and Good Conduct Medals.
Adam Malarick, IT Tech
I'm Adam, an IT Tech at Link Computing Solutions in Oshkosh, Wisconsin. I've been with Link Computing Solutions since 2013. Originally a native of Dunedin, Florida, I moved to Oshkosh to continue my endeavors with Link Computing. When I am not working, I enjoy spending time with my wife, two boys, and daughter, doing home improvements, golfing, and watching sports!
I have never really considered myself to be your average computer "nerd." However, I have always enjoyed working with people to reach a positive solution, math and a logical thinker. These attributes have allowed me to excel in business, computing and networking. My areas of expertise include:
Computer sales/service
Remote Monitoring & Management
Cloud based email – Conversions & configuring
Watchguard & Araknis Firewall configurations
Switch Technology
Business Networking
Server, computer, & NAS backup systems -Cloud based and local
Internet Service Provider (ISP) Migration
Network Cabling